WELCOME TO THE WEBSITE FOR BESTSELLING AUTHOR JONNIE JACOBS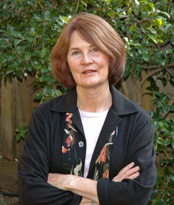 Greetings, and welcome to my website. I'm delighted you clicked your way here.
I'm an attorney (no longer practicing), a mother (two boys, both in their thirties), an amateur photographer, an even more amateur quilter, and an avid reader. I'm also the author of fourteen mystery novels, several short stories and numerous essays.
So why do I write crime fiction? I like bringing a sense of justice and order to the world (something often missing in real life). I like wrapping up the loose ends, knowing what happened and why (something else sorely missing in the everyday world). But mostly, I'm fascinated by people's stories. I'm interested in exploring how people interact and why they do what they do. I look upon the mystery as the frame on which to hang the human drama that is the core of virtually all storytelling.
LOOK FOR LYING WITH STRANGERS—AVAILABLE NOVEMBER 2013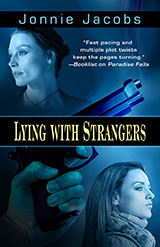 I have two series—the Kali O'Brien novels of legal suspense and the Kate Austen suburban mysteries—and three non-series books, including the latest, Lying With Strangers (November 2013).
From the front flap:
Lying With Strangers is the provocative story of two very different women and the tragic event that brings them together, opening the door to second chances. Against her better judgment, Chloe Henderson becomes the unwitting accomplice to a murder committed by her boyfriend. The victim's grief-stricken wife is shocked to discover the lies and secrets her husband has kept from her. When her young son plows into Chloe with his bike, the women's lives become entwined in ways neither of them could have imagined. Joel Richards, an enthusiastic young journalist covering recent developments in an old murder, has his own reasons for being interested in the victim, and in Chloe.
Lying With Strangers is available from Amazon, Barnes & Noble and IndieBound.
Feel free to read excerpts, sit in on interviews, read my bio, check out the booklist—and most of all, to write me. I'd love to hear from you.
© Jonnie Jacobs. Web site by interbridge.